About Us
This Wiki is completely fan-made. We just enjoy sharing information about the Let's Player Chuggaaconroy to show our appreciation towards his videos. If you wish to add to any pages or make your own than you are more then welcome to. Just keep the information appropriate. Thank you!
Let's Plays
Featured Article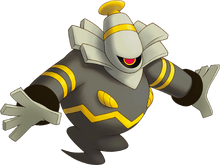 Eidolon (EYE-doh-lun) is Emile's Dusknoir in his Let's Play of Pokémon Platinum. He was the sixth and final Pokémon to join Emile's team.
Polls
Poll 3
If TheRunawayGuys were to add another member, who would you want it to be?
Poll 2
What is your favorite of Chugga's last 5 LPs?
Poll 1
Who Is Your Favorite Member of Emile's Pokémon Platinum Team?
Ad blocker interference detected!
Wikia is a free-to-use site that makes money from advertising. We have a modified experience for viewers using ad blockers

Wikia is not accessible if you've made further modifications. Remove the custom ad blocker rule(s) and the page will load as expected.