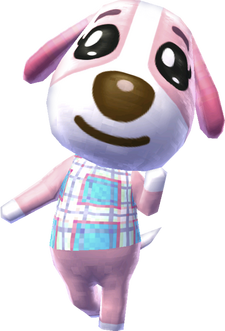 Cookie is a Peppy dog villager in Animal Crossing: New Leaf.
Animal Crossing: New LeafEdit
Cookie moved into Palette between updates and was shown during the September and October episode. At the time she was shown, she happened to be sick, which Emile freaked out about as he himself had just returned from a 2-month hiatus due to sickness.
Cookie is the only main villager to be a dog, besides Biskit.
Ad blocker interference detected!
Wikia is a free-to-use site that makes money from advertising. We have a modified experience for viewers using ad blockers

Wikia is not accessible if you've made further modifications. Remove the custom ad blocker rule(s) and the page will load as expected.