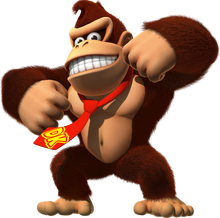 Donkey "DK" Kong is the protagonist of many video game, a gaming icon and is often the character that Chugga plays as in many of his Let's Plays and Collabs.
Mario Party 1-4 Edit
Chugga plays as DK in all boards in Mario Party 1 to Mario Party 4.
Mario Party 5-6 Edit
Donkey Kong is put into the DK Spaces starting in Mario Party 5, so Chugga begins to play as Princess Daisy. (Emile had originally planned to be Toad, but a certain ProtonJon livestream changed that)
Super Smash Bros. Brawl
Edit
DK is a playable protagonist in Brawl.
Appearances
Edit
Playable
Edit
The Runaway Guys
Edit
Emile had never played a Donkey Kong game before playing as DK.
All of Emile's Mario Party board victories have come as DK; since changing to Daisy he has yet to win once, with everyone else (including the AI) winning at least once.
In the TRG Animated scenes Emile is usually depicted as DK.