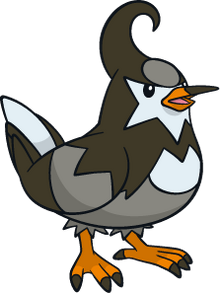 Staravia is Emile's un-nicknamed Staravia in Pokémon Platinum.
Pokémon Platinum Edit
Emile and Looker entered the Team Galactic HQ and looked around inside of a room. Inisde the room, Looker found HM02 (Fly) and gives it to Emile. Emile then captured Staravia in order to teach her Fly.  
Staravia was officially replaced by Sweet Ride the Tropius. 
Previous
Edit
Staravia is Emile's second HM Slave used primarily for HM02.
Emile used a Staraptor many times in his Pokemon Diamond save files, and in his deleted Platinum videos (filmed with a Camcorder).[citation needed]
Ad blocker interference detected!
Wikia is a free-to-use site that makes money from advertising. We have a modified experience for viewers using ad blockers

Wikia is not accessible if you've made further modifications. Remove the custom ad blocker rule(s) and the page will load as expected.