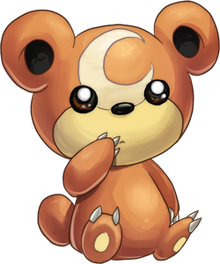 Gene is Emile's Teddiursa in his Let's Play of Pokémon XD: Gale of Darkness. While not an official team member, the usefulness of her Pickup ability kept her in Emile's party for most of the game.
Pokémon XD: Gale of Darkness Edit
She is a Teddiursa currently at Level 12. She was mainly used for her Pick-Up ability often finding items in useful places such as finding a Burn Heal after Chugga used one on Voltaire and finding an Ultra Ball before a boss Chugga had lost to twice and was used as a sacrifice during that said fight against Cipher Commander Exol.
Nickname Origin
Edit
Gene was named after Gene Simmons of Kiss because of the animation for the move Lick.
Ad blocker interference detected!
Wikia is a free-to-use site that makes money from advertising. We have a modified experience for viewers using ad blockers

Wikia is not accessible if you've made further modifications. Remove the custom ad blocker rule(s) and the page will load as expected.