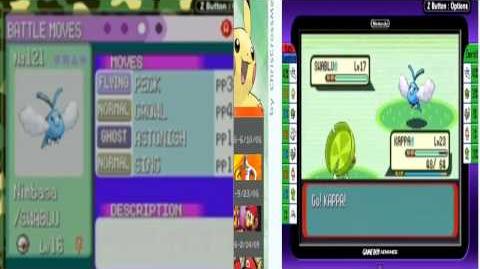 "I CHALLENGE YOU, CHUGGAACONROY!" is a video in Yoshiller's Whatever Wednesday series. The video was published on January 30, 2012. The video is 4 minutes and 2 seconds long. The challenge was followed through in 2016's Pokemon Emerald - Yoshiller VS. Chuggaaconroy!.
Description
Edit
"I challenge you to a 6 on 6 full Pokemon battle with our Pokemon Emerald teams! This'll settle who's truly the better trainer in the game!
Oh, and a special thanks for Jughead870 for making my laugh sound creepier!"
Yoshiller challenges Chuggaaconroy to a battle with their respective Pokemon Emerald teams.
This video features a now outdated layout of Youtube.
Ad blocker interference detected!
Wikia is a free-to-use site that makes money from advertising. We have a modified experience for viewers using ad blockers

Wikia is not accessible if you've made further modifications. Remove the custom ad blocker rule(s) and the page will load as expected.