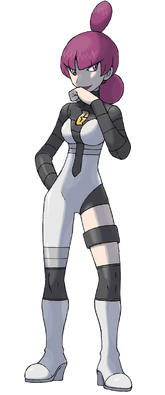 Jupiter is a Commander of Team Galactic. She is a major antagonist in Pokémon Platinum.
Pokémon Platinum Edit
In Pokémon Platinum - Episode 15: Ascending to Jupiter, Emile encountered Jupiter leading a group of Team Galactic Grunts in the Galactic Building of Eterna City. Emile defeated them all and they abandoned the building.
Pokémon Team
Edit
Jupiter is named after either the planet Jupiter or the Roman god Jupiter.
Ad blocker interference detected!
Wikia is a free-to-use site that makes money from advertising. We have a modified experience for viewers using ad blockers

Wikia is not accessible if you've made further modifications. Remove the custom ad blocker rule(s) and the page will load as expected.