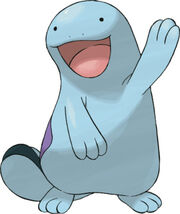 Not to be confused with Marshal
Marshall is Emile's Quagsire in his Let's Play of Pokémon Colosseum. He was the third Pokémon to join Emile's team.
Yawn
Amnesia
Earthquake
Surf
He was Purified in episode 15, along with Affection and Corona. He was Level 60 at the end of the LP.
He got a Quagsire because he loves Wooper, who he thinks is the happiest Pokémon in the world.
Despite knowing the move since episode 6 he has never used the move Amnesia onscreen.
In episode 16, "Camerupt is an Idiot", his Surf accidently knocked out Dakim's Shadow Entei after Dakim's Camerupt used Earthquake.
He was named by playsonic3 in episode 18.
One of Marshall's suggested names was Tim, which was referencing NintendoCapriSun.
Because of his moveset, Marshall will always attack more than one opponent if he uses an offensive move.
Marshall was the last man standing at the end of the battle with Evice.