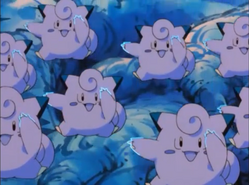 Metronome was one of Supernova's moves in Pokémon Platinum.
Pokémon Platinum Edit
Metronome was first learned in Episode 24: Rainy Mood. After sixteen onscreen uses, it was forgotten in Episode 38: Iron Men, to make place for Meteor Mash. In an unknown episode, it was relearned and was used until Pokémon Platinum - Episode 49: Head Honchkrow.
As described by Bulbapedia: "Metronome randomly selects a move and fully executes the attack. An attack called by Metronome in this way counts as the last move used.
In Generation I, if Metronome successfully calls Hyper Beam or a partial trapping move and has 0 PP before the move fully executes, its PP can roll over in the same manner as the move is called, with full PP Ups applied. A Pokémon will be able to use a move that is disabled if called via Metronome.
Because Metronome has normal move priority, a move with higher or lower priority may be executed other than when it normally would. For instance, Metronome may cause Quick Attack to be used after a normal priority move or Vital Throw to be used before a normal priority move."
Moves Selected
Edit
References
Edit