"Episode 6" is the sixth episode of Chuggaaconroy's Let's Play of Pokémon Emerald.
Description
Edit
"Time to take down Team Aqua! ...Or one of its members, at least!"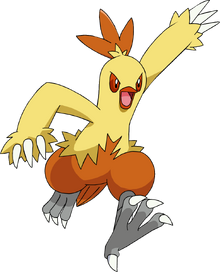 Chuggaaconroy goes up against a Team Aqua Grunt to get the Devon Goods and rescue Peeko. Emile and Moegami fight the Aqua Grunt, which causes Moegami to evolve from a Torchic into a Combusken.
Abra → Kadabra → Alakazam (Emerald Only)
Skitty → Delcatty
Whismer → Loudred → Exploud
Pokémon Encountered
Edit
First appearance of Mr. Briney.
First appearance of Peeko.
First appearance of Moegami as a Combusken.

Hence, final appearance of Moegami as a Torchic.