"Part 31" is the 31st episode of Chuggaaconroy's Let's Play of Pokémon FireRed.
Description
Edit
"We take on the...
...SEVENTH GYM LEADER ALREADY?!"
Chuggaaconroy battles the seventh Gym Leader of Kanto: Blaine.
Aerodactyl
Pontya
Rapidash
Tentacruel
Persian
Pokémon Encountered
Edit
None.
 Major Battles
Edit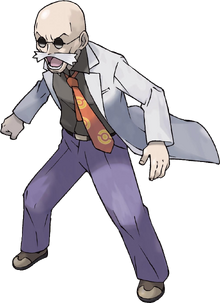 Emile vs. Blaine I
Edit
Emile's Team
Edit
Blaine's Team
Edit
Growlithe (Lvl. 42)
Ponyta (Lv. 40)
Rapidash (Lvl. 42)
Arcanine (Lvl. 47)
Winner: Emile (5 Pokémon Remaining, 1 Pokémon Fainted)
Loser: Blaine (0 Pokémon Remaining, 6 Pokémon Fainted)
Goofs/Errors
Edit
Blaine's Arcanine's bios featuring a Rapidash sprite.