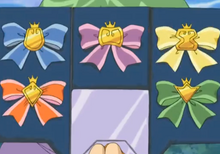 Ribbons are items in the Pokémon Series which can be awarded to Pokémon for a variety of reasons, ranging from the mundane to the exceptional.
Pokémon Emerald Edit
Ribbons appear in Pokémon Emerald.
Pokémon Platinum Edit
Ribbons appear in Pokémon Platinum, first appearing in Episode 28: The Pastoria Symphony.
Pokémon Who Have Ribbons
Edit
Ad blocker interference detected!
Wikia is a free-to-use site that makes money from advertising. We have a modified experience for viewers using ad blockers

Wikia is not accessible if you've made further modifications. Remove the custom ad blocker rule(s) and the page will load as expected.