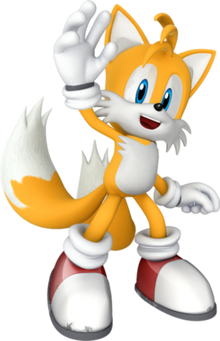 Miles "Tails" Prower is a main playable character in Sonic Adventure and a characters in Sonic Colors.
Sonic Colors Edit
In Sonic Colors, Tails appears in cutscenes, mainly talking with Sonic and Yacker.
Sonic Adventure Edit
Tails is a main character and a playable character in Sonic Adventure. His first appearance was in Episode 1: Ridiculous Relay, as an NPC. Later, in Episode 16: Tailing Off, he became the second character to have their story played.
Tails was somehow able to get into LittleBigPlanet, disguising himself as The Unknown Adventurer.
Ad blocker interference detected!
Wikia is a free-to-use site that makes money from advertising. We have a modified experience for viewers using ad blockers

Wikia is not accessible if you've made further modifications. Remove the custom ad blocker rule(s) and the page will load as expected.