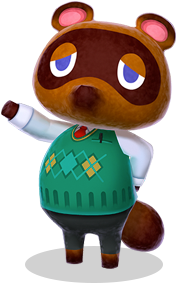 Tom Nook is a major character, and occasional antagonist, in Animal Crossing: New Leaf.
Animal Crossing: New Leaf Edit
Chugga first encountered him as the owner of Nook's Homes. He commenced the building of Emile's House, and Emile must get a loan every time he wants to expand his house.
Animal Crossing: New Leaf - Welcome amiibo Edit
Tom tells Emile about the secret store room.
He is referred to as a Tanuki in Japan, but is known as a raccoon internationally.
He is one of Emile's favorite Animal Crossing characters.
Ad blocker interference detected!
Wikia is a free-to-use site that makes money from advertising. We have a modified experience for viewers using ad blockers

Wikia is not accessible if you've made further modifications. Remove the custom ad blocker rule(s) and the page will load as expected.