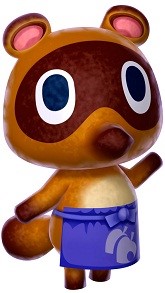 Thomas "Tommy" Nook is a character in Animal Crossing: New Leaf.
Animal Crossing: New Leaf Edit
Tommy and his brother Timmy are co-owners of the Nookling Stores.
Chugga first encountered him as the shop keeper of the Nookling Junction, where he sells Emile his Shovel and Fishing Rod.
He is referred to as a Tanuki in Japan, but is known as a raccoon internationally.
Tommy's birthday is June 7th.
Ad blocker interference detected!
Wikia is a free-to-use site that makes money from advertising. We have a modified experience for viewers using ad blockers

Wikia is not accessible if you've made further modifications. Remove the custom ad blocker rule(s) and the page will load as expected.